London-based artist, Morgan Ward's creative mantra is 'Don't create work that gives answers, create work that asks questions'. Something the university of Chichester graduate communicates through his large-scale abstract canvases – exploring colour, space and texture. For DM's Morgan has turned his hand to creating art on our classic leather backpack, read on to find out more about his creative process and the resulting piece…
Introduce yourself:
My name is Morgan Ward and I'm a painter, I've recently graduating from the University of Chichester with a degree in Fine Art, and now I've returned back to London where I live and also where my studio is based.
Who or what do you take inspiration from?
Communication between paintings and how paintings can be viewed as an object in space consumes a huge part of my thinking. How paintings communicate and how the viewer can be manipulated in a space to react a certain way towards specific works [inspires me].
Do you have an illustration or project you're most proud of?
I've got lots of really promising opportunities coming up along with some shows in the pipelines, which I've got to keep silent about for a little while longer but I'll be posting updates on my Instagram feed. I will always look back with fondness towards my degree show installation of works, it was a huge keystone in my practice and the direction I've taken my work since, for me, it confirmed ideas in my head as to why I create my work and what I still need to address going forward.

Can you talk us through your customised Dr. Martens bag?
Honestly it was super hard, I'm so used to working [on] canvas. The leather bag was a true contrast, with the paint slipping across the surface, it was an interesting experiment to see how my work adapts. [What's interesting is] the relationship with what a bag holds and how a piece will interact with endless scenarios, people, spaces.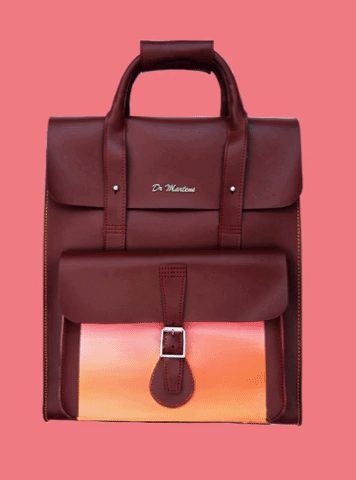 Do you listen to music whilst you work? Name three tracks you can't hear enough of:
Into a Dream- Is Bliss
Better – Kelela
Watch Me Dance – Tom Misch
Tell us your favourite thing about the city you live in:
I think the best thing about London is its diversity, not only in its communities, but also in artwork. You can go from gallery to gallery and see artists being represented from all over the globe.
Tell us about your first pair of Dr. Martens:
I suppose Dr. Martens stands for creative, even with this project, you are actively supporting emerging artists to promote exposure, and that is a great thing to do!
And finally, what do you stand for? 
I think it's really important in any creative career or passion to keep going, trust your own judgement, and never forget what you want to achieve.
Check out Morgan Ward on Instagram.